THE THIRD HIGHEST SUMMIT OF AMERICA
PISSIS VOLCANO
6.790 m - 22,276 ft
The Pissis with its 6,790 m – 22,276 ft, is the third highest mountain in the Americas and towers proudly over its neighbours.
Nestled within the argentinian desert, the sheer approach is an adventure in itself: over 90 kilometres off-track crossing through mountainous, desert terrain, fording streams and rivers, passing beautiful intensely coloured turquoise lakes under the curious observation of the numerous vicuñas and guanacos that populate this desolate landscape.
The Pissi´s five summits present an interesting challenge to those trying to climb it. Its principal summit can be reached after crossing snowfields, scree slopes and secondary summits. Enjoy around 14 days full of adventure and incredible landscapes within an overwhelming alpine setting.
ARRIVAL FROM SANTIAGO – COPIAPÓ.

PICK-UP AT THE AIRPORT, DROP-OFF AT HOTEL.

DRIVE TO

LAGUNA SANTA ROSA, (3,750 M – 12,303 FT).

DOUBLE SHARED TENTS.

DRIVE TOWARDS THE LAGUNA VERDE, BASE CAMP. DOUBLE SHARED TENTS.

MULAS MUERTAS ACCLIMATIZATION TREK (5,000 M – 16,404 FT). REST AND RETURN TO BASE CAMP.

CLIMB OF THE VOLCANO SAN FRANCISCO (6,018 M –

17,744 FT

), L. VERDE.

L. VERDE – Fiambalá, DOUBLE SHARED ROOMS IN HOTEL.

Arrival at BASE CAMP (4,650 m 14,107 ft).

Base Camp-Carrying equipment UP TO CAMP 1 (5,350 m – 17,552 ft) – BASE CAMP.
Base Camp – Rest day.
Base Camp – CAMP 1.
CAMP. 1 – HIGH CAMP (5,700 M – 18,700 FT).
High Camp -Summit-High Camp.

High Camp – Base Camp – Fiambalá.

Take down of the high- and BC.
Fiambalá-Copiapó.
Drive to Copiapo airtport. End of AndesContact Services.
THE THIRD HIGHEST SUMMIT OF AMERICA
CLIMBING DATES
INCLUDES
NOT INCLUDED
PRICE
CONDITIONS
CLIMBING DATES
Starting on december 2023
INCLUDES
NOT INCLUDED
PRICE
CONDITIONS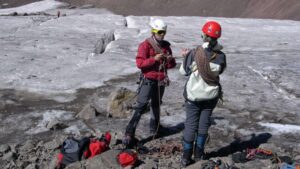 Curso de marcha y rescate en glaciar; abril 2023
Más info »