THE HIGHEST SUMMIT IN CHILE
OJOS DEL SALADO
6.739 m - 22,614 ft
The volcano Nevado Ojos del Salado marks Chile´s highest peak, and the second highest in the Americas after the Aconcagua. It is the world´s highest volcano, which calls the attention of mountaineers from all over the world.

Nestled in the heart of the Atacama Desert, in an area known as the Puna de Atacama, this giant towers at 6,893 metres above sea level dominating its immediate neighbours (such as El Muerto, Fraile, Vicuña, Incahuasi). During its high season from November to March, the Ojos is the mountain that is most visited by foreigners in Chile.
Paradoxically, the Ojos is rather a comfortable mountain in the sense that we can find hot springs to relax in, and drivable paths that allow altitude to be gained without having to shoulder much weight. This however does not make the climb itself easier: the Ojos remains in the middle of the desert with a relative humidity around 0%, which immediately complicates its climb.
Nevado Ojos del Salado, the world´s highest volcano, Chile´s highest mountain and a vast desert make this one of Chile´s most popular expeditions.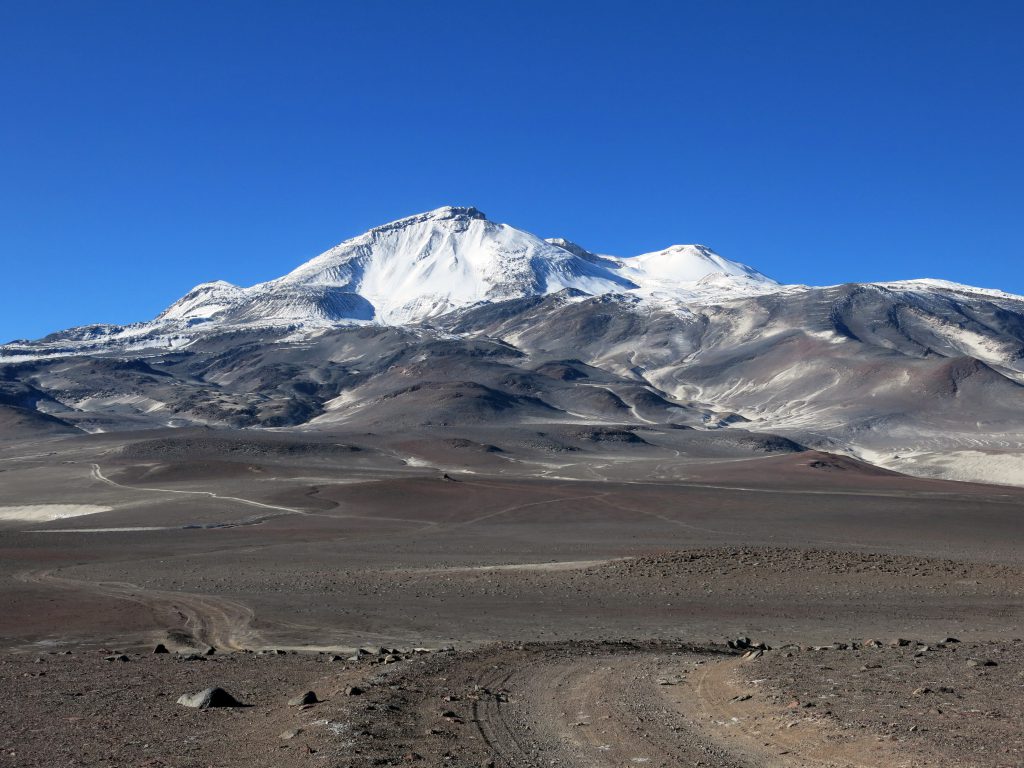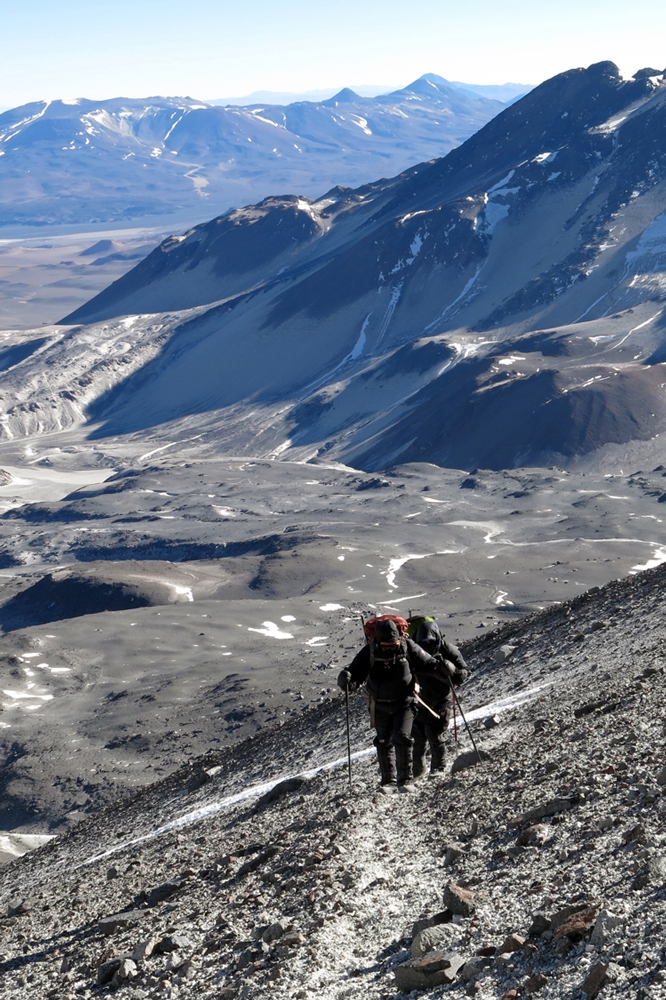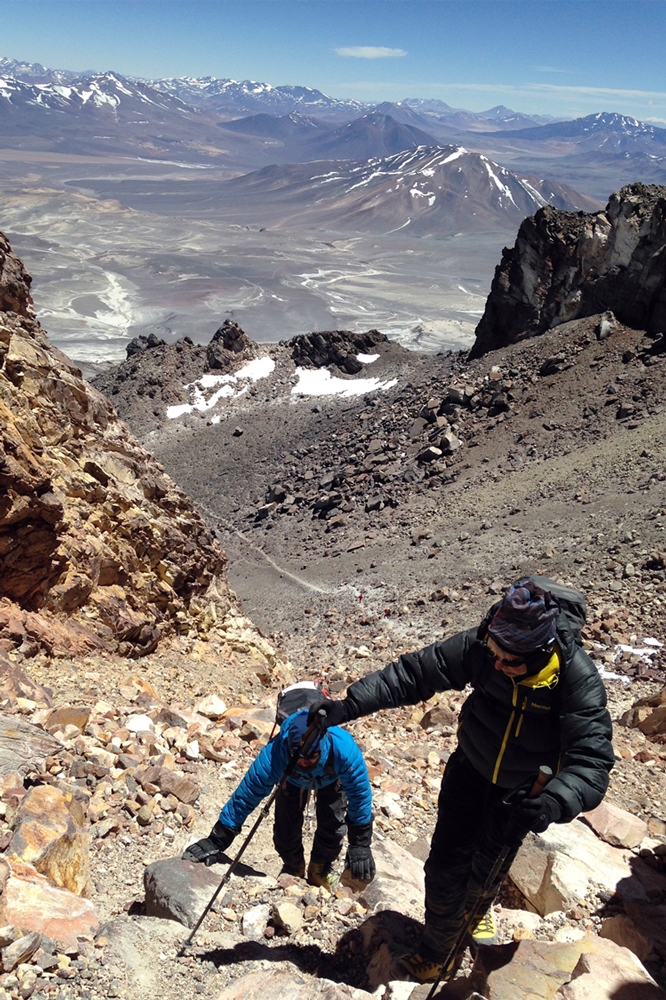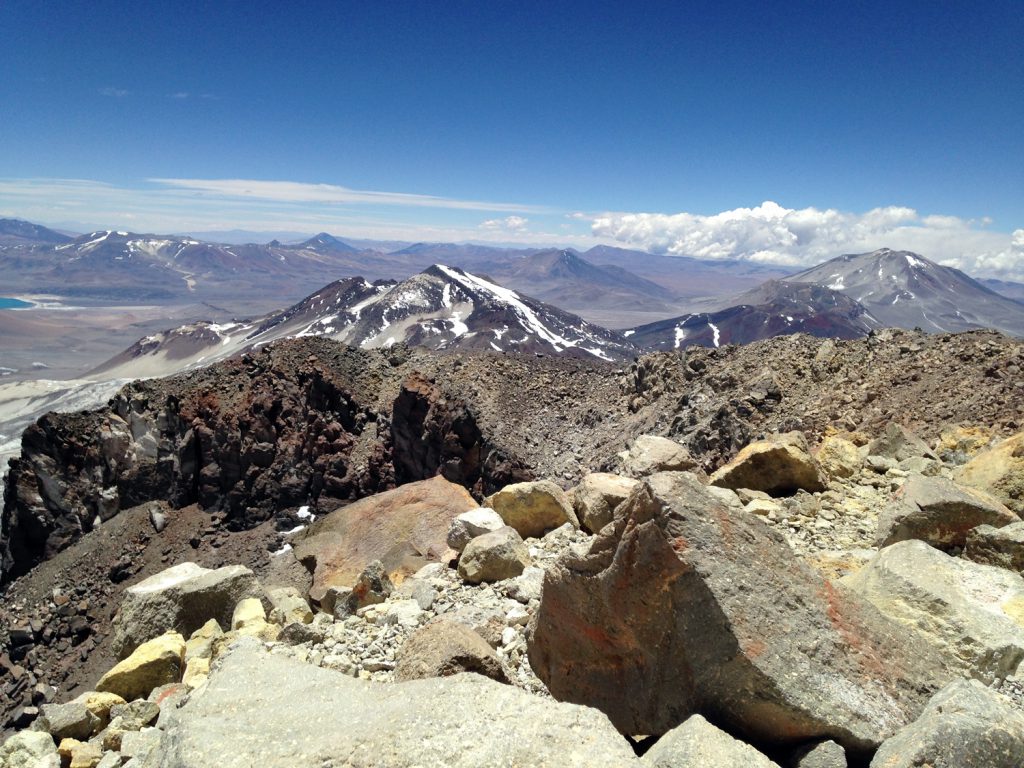 Arrival from Santiago – Copiapó. Pick-up at the airport, drop-off at hotel. 

drive to Laguna Santa Rosa, (3,750 m – 12,303 ft).  Double shared tents.

7 Hermanos mountain (4,850 m – 15,912 ft), acclimatization trek. Return to camp.

Drive towards the Laguna Verde, base camp. Double shared tents.

MULAS MUERTAS Acclimatization TREK (5,000 m – 16,404 ft). Rest and return to base camp.

Climb of the volcano San Francisco (6,018m – 17,744 ft). Return to base camp.

Rest day in base camp and hot springs.

Drive to the Atacama camp (5,300 m – 17,388 ft).

Moving equipment to Refugio Tejos (5,800 m – 19,028 ft); return to camp.

Walk up to Refugio Tejos .

Summit  attempt ,  early morning start. Return to Atacama camp.

Reserve summit day.

Return to Copiapó.

Return to Santiago. Drive to Copiapó airport. 
THE HIGHEST PEAK IN CHILE
THE HIGHEST VOLCANO IN THE WORLD
CLIMBING DATES
INCLUDES
NOT INCLUDED
PRICE
CONDITIONS
CLIMBING DATES
Starting on november 2023
INCLUDES
NOT INCLUDED
PRICE
CONDITIONS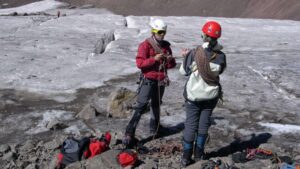 Curso de marcha y rescate en glaciar; abril 2023
Más info »